The Okhotsk Region of Hokkaido, Japan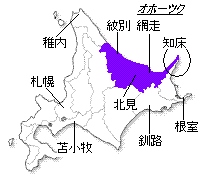 The Okhotsk region, shown in purple, is a sub-prefecture of Hokkaido on the Sea of Okhotsk coast. Place names are as follows:
オホーツク
Okhotsk
網走
Abashiri
北見
Kitami
知床
Shiretoko
紋別
Mombetsu
根室
Nemuro
稚内
Wakkanai
釧路
Kushiro
札幌
Sapporo
苫小牧
Tomakomai
Recent Topics
April 2019
The Birding Schedule for April 2019 - March 2020 is now up. Guests are of course welcome. For more information, see the Events page.
May 2020
To prevent the spread of the coronavirus in Hokkaido, the Birding Schedule for April 2020 to March 2021 has not yet been decided. Most birding events in Spring 2020 have been cancelled. Further details are scheduled to be announced in July 2020. The 2019 schedule above provides a guide to what the new schedule may include. We hope we can start our birding events again soon!
July 2020
Birding events are currently scheduled to restart in October, if safety for participants is possible by then. A calendar of events and any special rules for participation will be posted here when decided.
A note about the WBSJ Okhotsk Chapter's English site
This site is prepared and maintained based on content on the WBSJ Okhotsk Chapter's Japanese site whose link is in the upper right corner of this page, as well as some original content. We are doing this mainly for the benefit of English-speaking bird lovers who are interested in knowing more about the birds of this region or traveling to eastern Hokkaido to explore the birdlife and habitats that exist here. Needless to say, this site is a work in progress. If you notice any errors, chances are good that they belong to me (Doug Braat). A short note that will allow me to fix or update anything, or add content you might like to have, is always welcome (via the Contact Us page).
Copyright©2010-2020, Okhotsk Chapter of the Wild Bird Society of Japan. All rights reserved.
Original English text and translations from the Japanese are by Douglas Braat.