2013 Excursions in the Sea of Okhotsk
Seabirding Excursion I - 26 May 2013, 5:00 a.m.~
Early this Sunday morning, about 15 of us members of the Okhotsk Chapter of the WBSJ chartered a boat called the Chipashiri to have a look at seabirds in the Sea of Okhotsk during this season of early spring. We left from the pier behind the Abashiri Michi-no-eki at 5:00 a.m., already full daylight since the sun rises sometime after 3:00 a.m. at this time of year, and were guided through many kilometers of waters between the Shiretoko Peninsula and Cape Notoro. The world of seabirds is entirely different from the world of birds many of us were familiar with on land or along the shore. We thank Kawasaki-san, head of the Okhotsk Chapter, for having made this tour possible. Below is a quick photographic diary of our experience.
[We went on a 2nd cruise on 23 June to see what changes there might have been during the past 4 weeks. Jump to 2nd cruise report.]
[We have two autumn reports, too. Jump to 3rd and 4th reports.]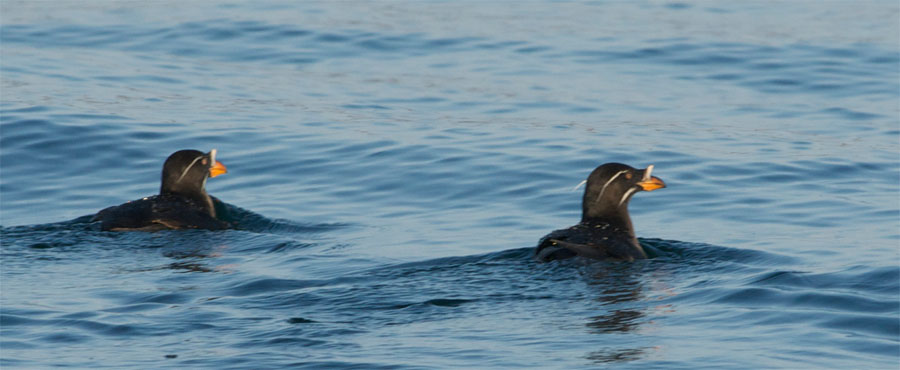 Rhinoceros Auklets (Utou; Cerorhinca monocerata). These occurred as individuals, pairs, and small groups.

A Rhinoceros Auklet taking flight.

Red-necked Phalaropes (Akaeri-hireashi-shigi; Phalaropus lobatus). There were huge numbers of these in large flocks, and sometimes in smaller groups of 30-80 around buoys or floating clumps of seaweed. They are stopping in this area on migration to breeding locations further north. Summer (breeding) plummage colors of females are generally more distinct that those of males.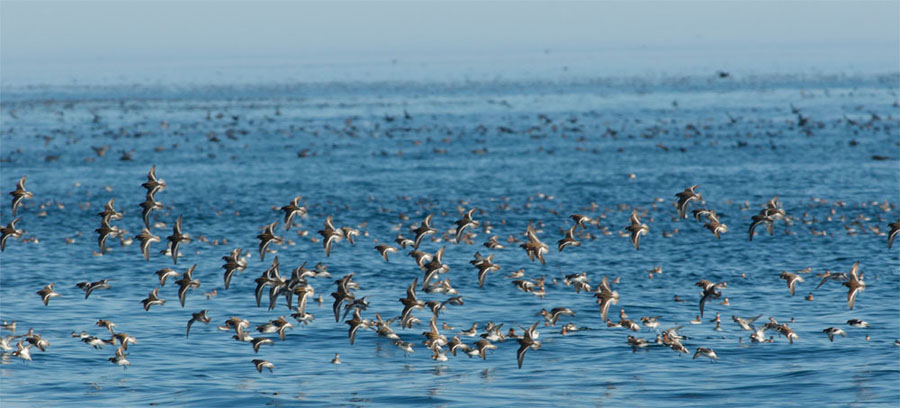 Thousands of Red-necked Phalaropes taking flight. Gently viewing small numbers up close from a small cruise boat
(max. capacity around 20 persons) does not normally cause them to fly away.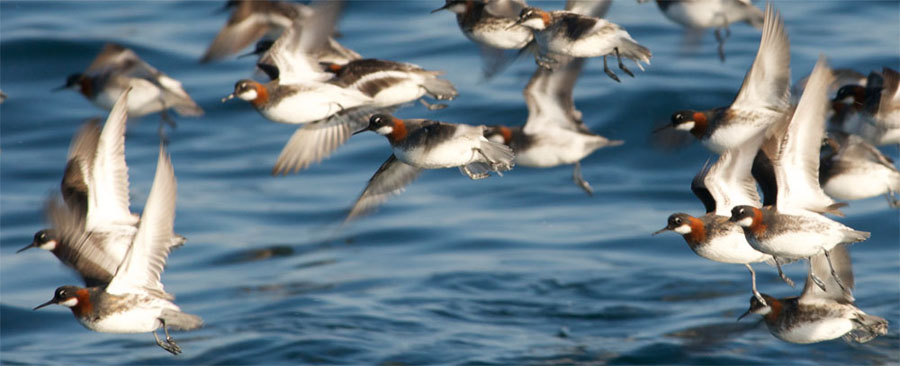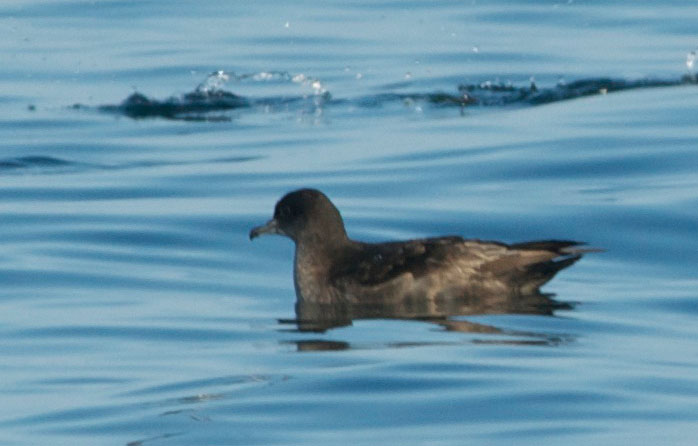 Short-tailed Shearwater (Hashiboso-mizunagidori; Puffinus tenuirostris).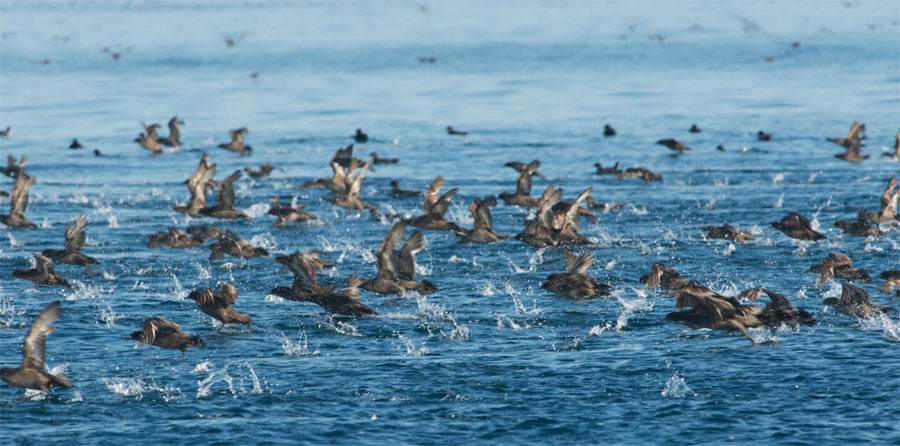 Short-tailed Shearwaters taking flight. Like the Rhinoceros Auklet, they have webbed feet and take flight by first jumping across the water surface.

Enormous flocks of Red-necked Phalaropes and Short-tailed Shearwaters share territory in this case.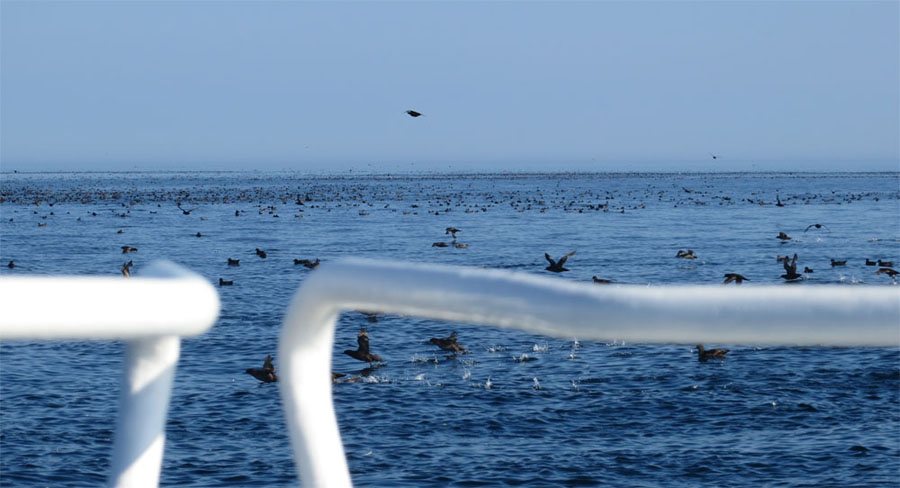 The sea is covered with Short-tailed Shearwaters. Large numbers of these birds died last year due to lack of food. It is not yet known what will happen this year. [Update 28 May: This morning, at low tide, a couple of us surveyed the coast along the eastern side of the Notoro Peninsula just north of Futatsu-iwa, Abashiri, and we found only one dead body of a Short-tailed Shearwater, compared with the same time last year when we found several dead shearwaters and countless small feathers washing up along the shore. The Futatsu-iwa coast is on the leeward side of the currents and is generally very clean, but this year it was the cleanest we've seen it in the past 3-4 years. (More information about the Okhotsk Chapter's coastal bird surveys are on the Surveys page.)]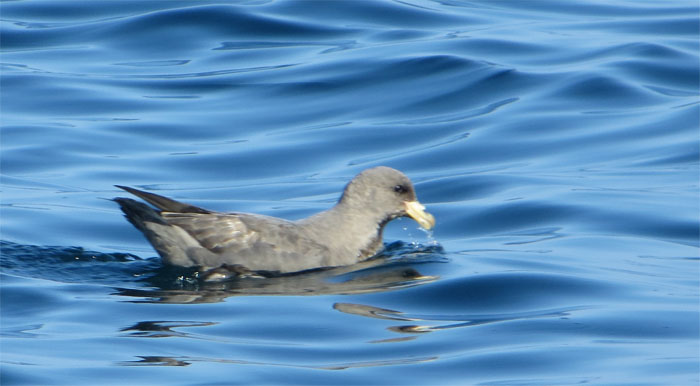 Dark form of the Northern Fulmar (Furuma-kamome; Fulmarus glacialis), common in this area.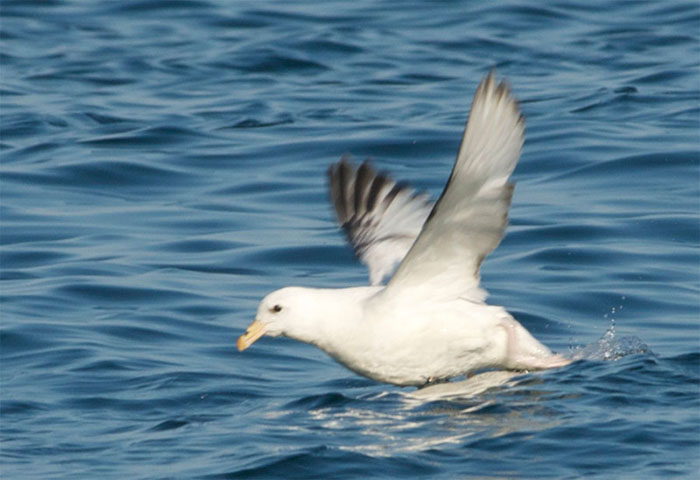 Lightest form of the Northern Fulmar (Shiro-furuma-kamome), much rarer in this area than the dark form.
Adult Pelagic Cormorant (Hime-u; Phalacrocorax pelagicus) (left) and probably a juvenile (right).

Minke whale coming up for air.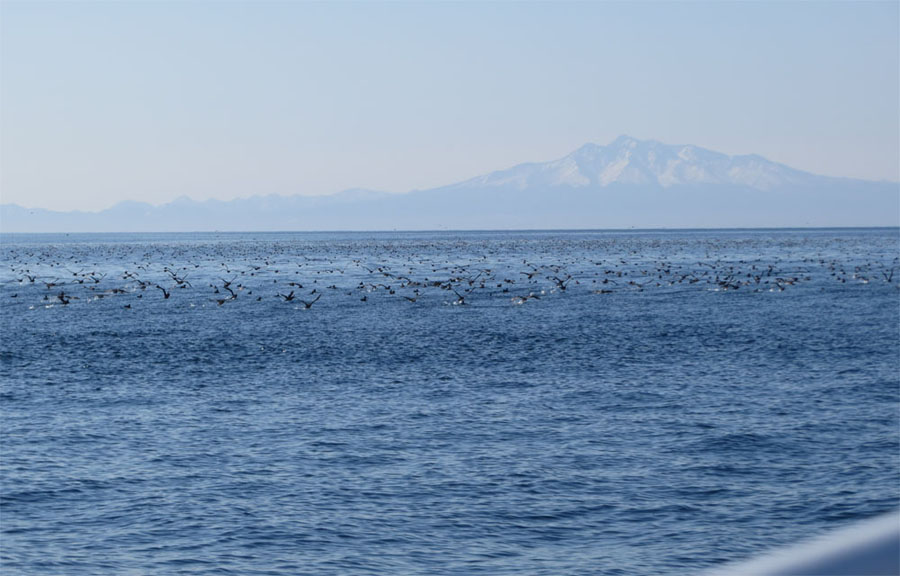 Another flock of seabirds with Mt. Shari (1,547m) in the background.
Information about Abashiri Nature Cruises can be found on their webpage here (in Japanese) which is part of the Abashiri City Travel Site.

Seabirding Excursion II - 23 June 2013, 5:00 a.m.~
On this quiet Sunday morning at 5:00 a.m., a few of us went again on a seabirding cruise to see what changes there might have been in the seabird scene in the same area since the previous cruise a month earlier. The sea was flat ("betanagi"), the sun was out, it was not cold (about 18°C), and the mountains were barely visible. This is the normal summer pattern when low pressures are not around, so spring was very short, about five weeks.
The main difference between the last cruise on May 26 and this one was the lack of huge flocks of Red-necked Phalaropes and Short-tailed Shearwaters. We saw just one Phalarope (flying nearby) compared with thousands before, and the numbers in the two or three flocks of Shearwaters we saw were down to the hundreds at most.
The numbers of Rhinoceros Auklets and their groupings were the same as before, and there were also plenty of Fulmars of the dark variety. We did not see any white Fulmars this time.
Since the bird species we saw were basically the same as on the first trip, the photos below only show new scenes, mainly mammals. Indeed, summer is more of a season to see whales, dolphins, killer whales, and other marine mammals. The large numbers of birds return in September, so we will be back on the sea then.
A pair of White-tailed Sea-Eagles (Ojiro-washi) that we passed on the way out of Abashiri harbor. There was also a single White-tailed Sea-Eagle near this spot, possibly one of these two, on the way back four hours later.
Dall's Porpoise (Ishi-iruka; Phocoenoides dalli).
Northern Fur Seal (Ottosei).
A small flock of Short-tailed Shearwaters with Mt. Unabetsu (1,491m) in the background.
Heading back to Abashiri. Our spring seabirding season is over for this year.

Seabirding Excursion III - 7 September 2013, 11:00 a.m.~
We received another invitation from photographer Masayuki Miyamoto to go out for a seabirding cruise aboard the Chipashiri with Captain Maeda. This time there were 16 of us.
The Sea of Okhotsk was very rough the previous day due to winds of 14 m/sec ("near gale"). The weather happily improved on the day we went out and the seas were calmer, but it was still a bit rough out there. Nevertheless, it was calmer than seas often are around Abashiri in autumn.
There were not a lot of birds this time, but thanks to Captain Maeda's navigational skills and Miyamoto's seasoned advice, we still had a good time.
The conditions out at sea are different every day. There is never any guarantee that we will see any whales or birds when we go out, so it is that much more exciting when we do see something. We look forward to the next time we can go out again.
Many thanks to Mr. Miyamoto and Captain Maeda.
Today's list: Tundra Bean Goose (Hishikui), Short-tailed Shearwater (Haiiro-mizunagidori), (Hashiboso-mizunagidori), Flesh-footed Shearwater (Akaashi-mizunagidori), Pelagic Cormorant (Hime-u), Great Cormorant (Kawa-u), Japanese Cormorant (Umi-u), Red-necked Phalarope (Akaeri-hireashi-shigi), Black-headed Gull (Yuri-kamome), Black-tailed Gull (Umineko), Slaty-backed Gull (Ooseguro-kamome), Common Tern (Ajisashi), Pomarine Skua (Touzoku-kamome), Parasitic Jaeger (Kuro-touzoku-kamome) [1 bird], Japanese Murrelet (Kanmuri-umisuzume), Rhinoceros Auklet (Utou), Feral Pigeon (Kawara-bato/Do-bato) [17 species]
[A simple translation of the report that appeared in the WBSJ-Okhotsk blog.]
Seabirding Excursion IV - 10 October 2013
The big news from today's cruise is the first sighting of a Black-footed Albatross (Kuroashi-ahoudori) in the Okhotsk region of Hokkaido (our region). Mr. Miyamoto was even able to capture a decent photo of it.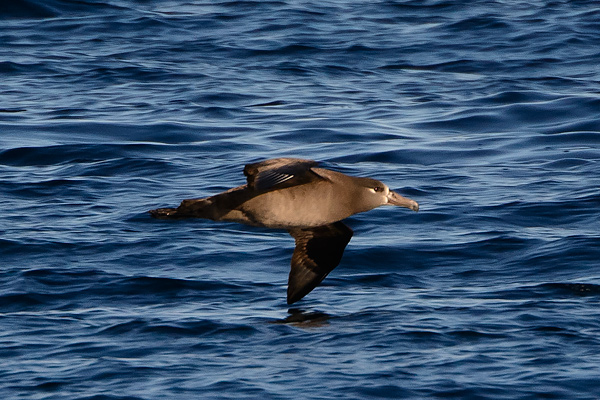 Today's list: Tundra Bean Goose (Hishikui), Oo-hakuchou (Whooper Swan), Ma-gamo (Mallard), Velvet Scoter (Biroodo-kinkuro), Black Scoter (Kuro-gamo), Pacific Loon/Diver (Shiroeri-oohamu), Black-footed Albatross (Kuroashi-ahoudori) [photo], Northern Fulmar (Furuma-kamome), Short-tailed Shearwater (Haiiro-mizunagidori), Flesh-footed Shearwater (Akaashi-mizunagidori), Leach's Storm Petrel (Koshijiro-umitsubame), Fork-tailed Storm Petrel (Haiiro-umitsubame), Great Cormorant (Kawa-u), Japanese Cormorant (Umi-u), Pelagic Cormorant (Hime-u), Kittiwake (Mitsuyubi-kamome), Black-headed Gull (Yuri-kamome), Black-tailed Gull (Umineko), Mew Gull (Kamome), Glaucous-winged Gull (Washi-kamome), Glaucous Gull (Shiro-kamome), Herring Gull (Seguro-kamome), Common Tern (Ajisashi), Pomarine Skua (Touzoku-kamome), Ancient Murrelet (Umisuzume), Rhinoceros Auklet (Utou), Black Kite (Tobi), Carrion Crow (Hashiboso-garasu), Large-billed Crow (Hashibuto-garasu) [29 species]
[This report and photo appeared in the WBSJ-Okhotsk blog for this day.]